Disease Eradication
Our philosophy is that every human being is supposed to be well and can be well.   We will search endlessly until we see your body teaming with health and vitality.
You may have been diagnosed with an incurable illness but we are convinced that the body desires to heal and is always trying to work itself back to a place of balance.
The service of never giving up on any patient and being willing to try creative strategies on a case by case basis to get people well is a service we are excited to provide.
Performance Nutrition
We develop and implement nutritional strategies using both food and supplements to enable peak athletic performance.  Depending on your fitness goals we will show you how to time your food and supplements so that every time you hit the gym, track or athletic field you can expect to perform at your fullest.
Performance Partnership
We have partnered with CFS Nutrition the developers of Elite Fuel and Activ Whey, to bring the most potent pre-workout supplement to the market.  There is so much misinformation, wasted time, and wasted money when it comes to performance optimization in sports.  We are continually scouring the literature to make sure we are on the cutting edge of performance nutrition.  You don't have to sacrifice your health to gain a significant performance edge.
Performance Education
We will ensure that you are educated, so that not only do you know what to do but why you are doing it.  You don't need to be an aspiring professional athlete to get serious results from proper nutrition and supplementation.  We are currently working with many young aspiring athletes, professional athletes and masters athletes to ensure every workout is maximized, recovery is quickened and muscle mass is gained.
If you are interested in getting to that next level in your fitness please call the office 360.367.6446 or email us at [email protected].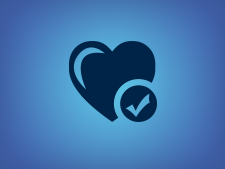 Habit Transformation
Our daily habits define and create the outline for our tomorrow.  Gone are the days of the quick fix, miracle pill, and crash dieting.  We need habit transformation in order to create sustainable results, so that we can enjoy an energized life now and as we age! We will teach, coach, and empower you to rid yourself of poor habits and gain health building habits.
Practice What We Preach
We preach what we practice and practice what we preach, which give us unending ideas and strategies to get you out of ruts and around roadblocks. You present us with your goals and we will tailor a lifestyle program that enables you to develop habits to attain those goals. We come into your home, wipe your slate clean and help you fill it back up with only those items that will lead to health success.  Your home should be a sanctuary.  It should be the safest place to nurture life sustaining habits.  We will help you make it that way.
Create a New Way of Life
This habit transformation is not just about fat loss, though you will lose lots of it if you need to.  It is about making sure you are getting everything you can out of your body and are able to live a fulfilling life.  You may be looking to go from high school sports to college or college sports to professional.  You may be a busy business executive or a housewife or anything in between.  We want to empower you into the energized, focused and fit life you deserve.  You will receive a comprehensive food and exercise overhaul.  You will have accountability 24/7 available to you.   You will get lifestyle altering results! For more information or to set up a habit transformation program please call 360.367.6446 or email us at [email protected].
Cold Laser Therapy
Laser therapy is a scientifically proven way to reduce pain and inflammation.  The type of laser we use is a Class IV LiteCure laser.  This laser provides deeper tissue penetration, resulting in fast, efficient and consistent results.
Laser therapy works for neck pain, lumbar pain & sciatica, wrist pain, elbow & joint pain, muscle spasms, lower extremity pain, knee & joint pain, foot & ankle pain.
Why LiteCure Laser Therapy?
Avoid surgery and the time associated with post-op healing.
Manage your pain without the use of expensive and harmful prescription drugs.
Quicker recovery times with laser therapy so you can return to the activities you love.
How LiteCure Laser Therapy works?
Laser therapy allows your body to utilize it's own healing powers by inducing a series of healing responses in your body. During treatment you will feel a soothing warmth that identifies the beginning of an 18-24 hour process of modulated cellular activity leading to decreased pain and inflammation.
While the minor heating can help relax muscles and decrease pain, the heat sensed at the skin is not what creates the improvements in microcirculation and local vasodilation – these effects result from a process called photobiomodulation (PBM).
Local perfusion increases after specific wavelengths of light reach the inner mitochondrial membrane of injured cells and excite the chromophore Cytochrome C. When energized adequately, activated Cytochrome C oxidase frees up bound nitrous oxide (NO), which improves vasodilation in the local area and promotes healing.
In addition to freeing up NO, there are a host of other beneficial cellular interactions that take place during photobiomodulation that positively influence the inflammatory cascade and improve tissue healing by impacting the mitochondria directly.
Deep Tissue Laser Therapy™ treatments are administered in 5 to 10 minutes.
Treatments are fast, safe, painless and most patients see significant results after 4 to 6 treatment sessions.
What is the Difference Between Level 4 Laser Therapy and Ultrasound?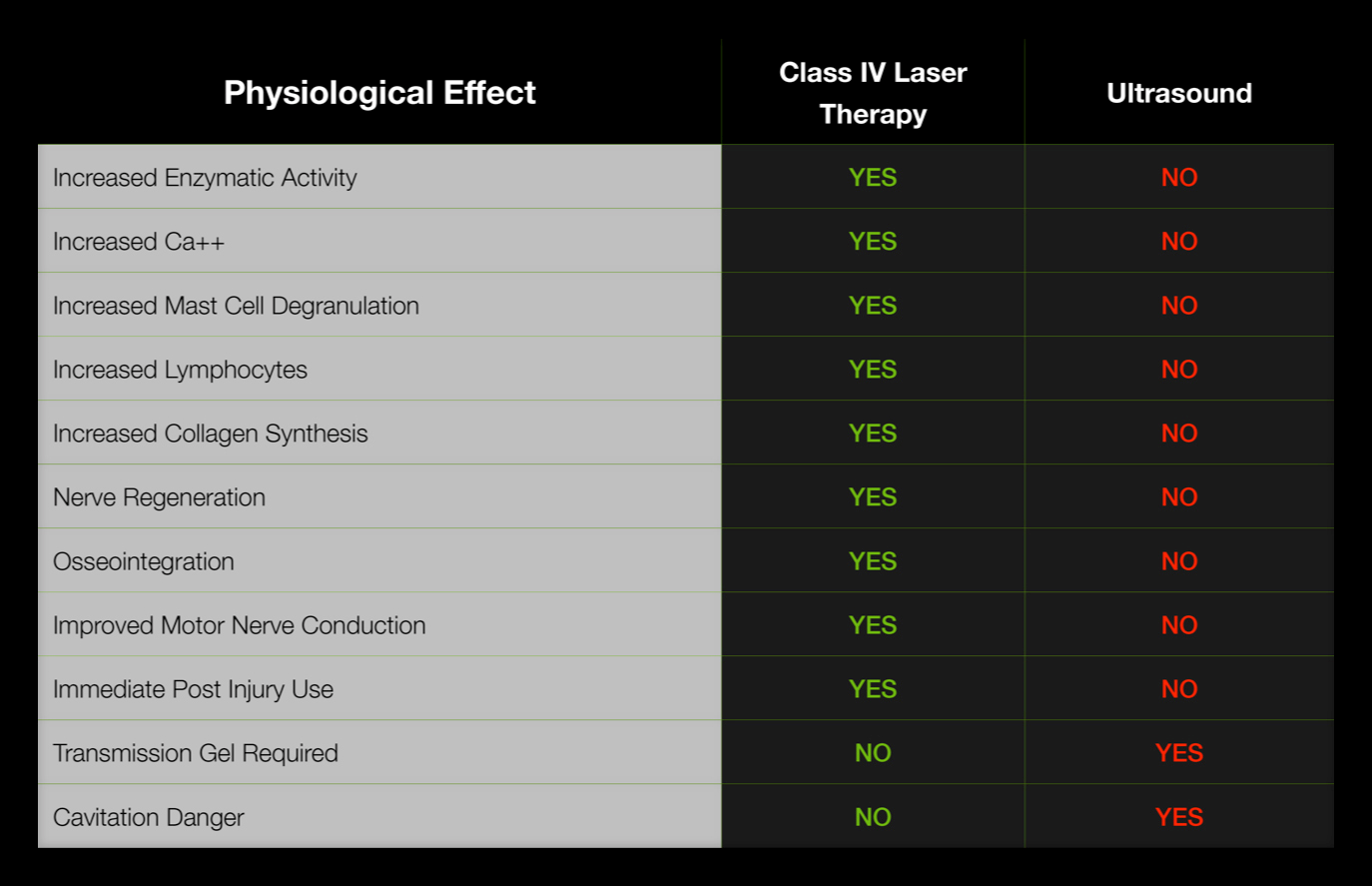 Class IV therapy lasers are FDA cleared and clinically proven to reduce pain associated with inflammation. Laser therapy is also endorsed by the APTA, WHO and IASP®.
Juvent Micro-Impact Platform®
Our bones perform many essential functions that rely on consistent healthy impact; it's one of the fundamental requirements for optimal health. The Juvent's Micro-Impact Platform® that we have at Angove Family Medicine makes it possible to get daily skeletal impact that is safe, effective and easy. Great musculoskeletal health is so important to living an independent and high quality life.  We have chosen the Juvent Micro-Impact Platform®  because it's technology is rooted in extensive medical science and research.  We have found that it is an easy and effective solution to promote musculoskeletal health, joint pain relief, and improved balance.
Who can benefit from Juvent Micro-Impact Therapy?
I (Dr. Matt) use the Juvent Platform almost daily to help with exercise recovery and a general circulatory stimulant in the morning. If you are looking for improved bone health, decreased joint pain, improved range of motion, better circulation and lymphatic flow or faster recovery after workouts then this micro-impact therapy can help.
During a session, you will feel a gentle, soothing wave of micro-impact pulses traveling up from your feet into your legs and throughout your entire body. The sensation is pleasant and exhilarating, not intense or distracting.  Juvent patented system uses the science of low-magnitude mechanical impulses to safely exercise your bones, muscles, and joints. The Juvent Micro-Impact Platform® sends carefully calibrated mechanical energy waves up through your body. These tiny waves gently move your body and increase blood flow, helping bones and joints recover naturally. The Juvent Micro-Impact Platform® operates at a very low magnitude (less than 0.3G) and gentle, soothing frequency between 32 and 37 Hz, depending on your body composition. Juvent's patented technology adjusts to your body's particular composition, finding the ideal frequency. This discreet range makes Juvent  safe. Juvent's level of energy and frequencies fall safely under OSHA's (Occupational Safety and Health Administration) and ISO's (Int'l Organization for Standardization) guidelines.
How long are treatment sessions?
Generally patients will come in and stand on the platform for 10-20 minutes 2-3 times per week.  Patients often read books or use their tablets or phones while receiving therapy.  Depending on your specific condition , Dr. Matt or Dr. Amadea will recommend specific frequencies of use.
What is the difference between Juvent Micro-Impact Platform and Whole Body Vibration plates?
The Juvent Micro Impact Platform automatically calibrates to the specific body composition of the person standing on it.  This is very important to maximize therapeutic benefit and eliminate injury.  This is not the case with Whole Body Vibration (WBV) plates. Juvent's micro-impact is possible because of its patented platform mechanism. You will only move 0.05mm in vertical distance, while on the Juvent Micro Impact Platform.  This is in contrast WBV platforms where vertical displacement is 2mm-10mm.  2mm is 40 times more displacement than Juvent! We do NOT recommend Whole Body Vibration plates.  Shaking the human body is NOT healthy and promotes fractures and bodily dysfunction.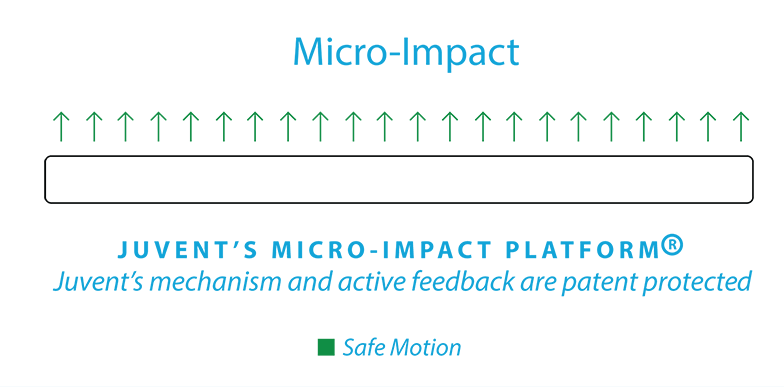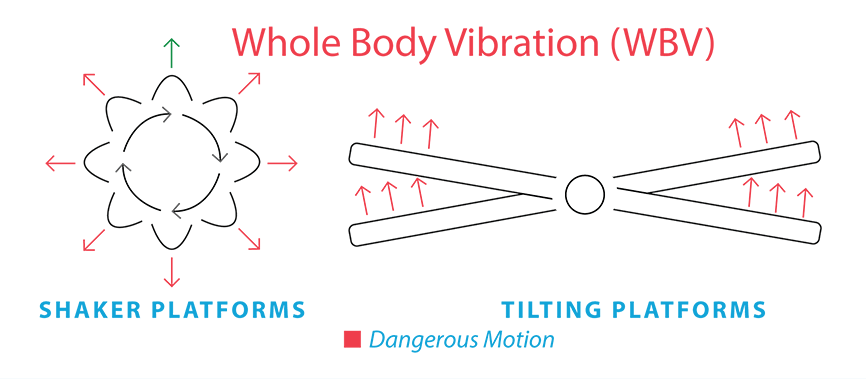 [/et_pb_column_inner][/et_pb_row_inner]